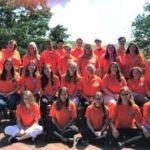 We are pleased to announce that 2023 camper registration will open January 1, 2023 and applications for summer staff positions will be available in mid December 2022
TWILIGHT PARK CAMP INC. is formed for the purposes of educating and building character, love of nature and community in children and youth of Twilight Park and surrounding areas by providing safe, nurturing, and learning youth programs & summer camps.
A tax exempt non-profit 501(c)3 corporation
Made Possible by:
Camp fees, fund raising events, donations and the encouragement & facilities provided by Twilight Park Cottagers, their Board & our wonderful camp volunteers and Camp Board members
Twilight Camp Board wants to give a very special thank you to all the Camper Families and Community Families that helped us thru 2020 & 2021 with generous donations, loving encouragement and morale support.,
Twilight Park Day Camp 2023
TPDC is a tax exempt not for profit community day camp located in Haines Falls NY. We provide a caring and nurturing environment with age appropriate mixture of swimming, tennis, archery, games, sports, field trips, kayaking, arts & crafts, yoga and music with a special emphasis on nature, hiking and overnight camping. Our Leaders In Training program adds more independent and adventurous activities. Supervision is provided by experienced adult educators and professionals supplemented with teen Counselors.
Our Campers and Teen Programs are for ages 3 to 15. Some spaces in the camp are reserved for Twilight Park residents, renters and house guests.

Age 3&4 can attend the half day program (must be potty trained)

Age 5 to 12- full day program Age 12 with Camp Director permission may attend the LIT program.
Age 13 & 14 may attend our Leader in Training program 

Age 15 and older may apply for a staff position as a Counselor Assistant / Camp Helper – either paid or volunteer

Our Sessions – Weekly sessions from June 29 to August 18 (Week 1 is a two day week and tuition will be lower for each program). Programs are normally from 9 am to 3 pm and Half day is 9 am to 1 pm.

Summer of 2023 – We will be following local and NYS day camps health and safety procedures and will be communicating specific details with parents during the months prior to the start of Camp. TPDC requires that all campers and staff have age-appropriate vaccinations including COVID 19 when available.

Registrations are two week mininmun ( except with camp director permission). 

 
| | |
| --- | --- |
| Program & Age | Weekly Fee |
| Pre-K Half Day Camp for (3-4) | $300 |
| Full Day Camp for (5-12) | $490 |
| Leaders In Training (13-14 and 12s with camp director permission) | $490 |
|   |   |
2022 Discounts
$25 per week per camper each for:
Siblings (for second, third etc children in same household)

Early Bird Registrations (by February 28, 2022)

Twilight Park residents, renters and house guests

 Twilight Park employees are eligible for a discount-contact camp administrator
Finacial Aid- limited partial finacinal aid is available based on financial need- Click here for information and application
Refund Policy- Full refund of camp fees (minus non refundable deposit ) if canceled two weeks before your child's camp week.  If your child is quarantined because of potential camp exposure or if camp is canceled all fees for unused days will be refunded.
Satisfaction Guarantee: Full refund of unused days if child or parent is not satisfied with camp experience
Register online – starting January 1, 2023
New Family registration starts March 1 2023
Space is limited and will be filled on first come basis. Some spaces are reserved for Twilight Park residents, renters and house guests
 Programs for Teens and Tweens
Our Teen Program is a key part of our Day Camp and is geared toward our young teen campers who are ready for the next challenge. It is a progression from a more independent camper to real leadership and job responsibilities.
Leader in Training– (LIT) 13- 14 years old with demonstrated maturity as a camper. They will have more intense hiking, kayaking and camping along with a variety of optional activities and their own camp & service projects A minimum 2 weeks is required except for house guests. 12 years old with camp director permission will be considered for this program

Counselor Assistants / Camp Helpers– 15 and older successfully graduating from our LIT  Program or comparable experiences are eligible for volunteer or paid Counselor Assistant jobs.
Adult Professional Staff – each with special expertise and relevant experience:
Candy Strong –

Camp Director

Melanie Sussman– 

Program Director

Laura Post-

Camp Administrator

Than Ferris –

 Tennis Director

Lizzie Slutzky-Cahill –

Pre-K Coordinator
Program Leader /Senior Counselors – college students (18+ years old) with 3+ years' experience
Counselors  – 16+ years old with experience- 
Assistant Counselors – 15+ years old graduating from the Camp Leadership or comparable program-
Special Instructors
Yoga – Patricia Ferris
Wilderness & Hiking – 

Mollie Zucker

Swim Instructor- Alyison Morrila
Volunteers
Board of Directors-  Sarah Post, Melina Fisher, Judith Shulevitz, Rob Meyer, Joanne Ainsworth, Lizzy Kuhlenkamp Yan, Teri Barrett,  Wade Speir, Megan Marine, ,  Nicole Martocci, Ashley Cavanaugh, Will Peters, Terry Douglass, Amanda Fletcher, Barbara Swanson
Attorney – Peter Swords
Health Director – Dr. Allan Lans
Camp Van Drivers– Bob Post & Jim Martocci
Traffic Safety – Sarah & Bob Post
Camp House Coordinator – Patricia Ferris
Park Liaison– Teri Barrett
We are proud to be a registered NY State Children's Day Camp. Information that explains how a camp should operate and your rights and privileges as a parent of a Camper can be found here: https://www.health.ny.gov/publications/3601/
For additional information about Twilight Park Day Camp contact:
Twilight Park has a variety of positions ideal for school teachers or other professional that have the summer free. Along with the positions that are great for high school and college students.
Camp Positions are Available and can be applied for using the on-line job application portal (see link below). We are still looking for Counselors that can work in August
Camp Counselors
Lead Counselors
Life Guards
Teen Program Leader
Instructors- Swim, Paddling, Tennis
Office and operations helper