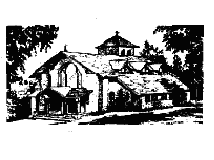 Sunday June 27 is "Opening Day" at Memorial Church of All Angels, 2021
Please join us to begin the season at our 10:30 a.m. worship. All are welcome! We are continuing the tradition of "Lemonade on the Lawn," Following the Service and just outside the Church.  We would love volunteers to keep things running smoothly. Various volunteer opportunities are listed below. If you get a call, please agree to be one who serves.
Vestry:
Name
Office, Committee
Susan Underwood
Senior Warden, Ministry
Janis Handte
Jr. Warden, Ministry
Mack Elder
Treasurer
Barbara Swanson
Secretary, Ministry
Patty MacGahan
Auxiliary President, Rectory Oversight
Ron Basini
Buildings and Grounds
Peter Bennett
Dorsey Dunn
Buildings and Grounds
Bob Hersey
Buildings and Grounds
Johna Peachin
Readers
Cyndy Stevens
Altar Guild
Sheila Weber
Music, Ministry
Here are some notes for the summer.
We are looking forward to welcoming the following clergy to our pulpit this summer. Please make them and their families feel at home in Twilight! We are in for some very good preaching with some familiar and some new folks.
| Sundays in 2021 | Clergy |
| --- | --- |
| June 27 | Rev. Jacob Smith |
| July 4 | Rev. Jacob Smith |
| July 12 | Rev. Jacob Smith |
| July 19 | Rev. Jacob Smith |
| July 26 | Rev. Jacob Smith |
| Aug. 1 | Rev. Jacob Smith |
| Aug.  8 | Rev. Jacob Smith |
| Aug. 15 | Rev. Canon Jonathan Huyck |
| Aug. 22 | Rev. Canon Jonathan Huyck |
| Aug. 29 | Rev. Kate Heichler |
| Sept. 5 | Rev. Kate Heichler |
Sunday June 27 is "Opening Day" at Memorial Church of All Angels, 2021
Choir rehearsals are on Sundays at 9:30 a.m. Join the choir on any Sunday. Just show up at 9:30 and we'll give you a robe and hymnal. Children are welcome.
Services are Sundays at 10:30 a.m. Holy Communion and Morning Prayer will alternate.
Special music is always a wonderful feature of worship. Please contact Sheila Weber if you would like to offer a solo or instrumental selection.
Altar Guild – To help, contact Cyndy Stevens
Ushers – To volunteer, contact Johna Peachin
Readers – If you would like to read one of the lessons, contact Johna Peachin.
Auxiliary – For all Auxiliary info and activities, contact Patti MacGahan. Details will follow.
The Rectory number is 518-589-5646.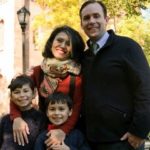 The Reverend Jacob Smith officiates on June 27 through August 15, 2021.
The Reverend Jacob Smith is the third Rector of Calvary-St. George's Church, located on both Gramercy and Stuyvesant Parks in New York City. Jake was born on the Navajo Reservation and raised in Yuma, Arizona. He graduated from the University of Arizona in 2000 with a B.A. in History, with an emphasis in Near Eastern Studies. He received his M. Div. from Trinity Episcopal School for Ministry in May, 2006; was ordained to the diaconate in June, 2006 in the Episcopal Diocese of San Diego; and ordained a priest at NYC's Calvary Church in December, 2006. Jacob began his ministry at Calvary-St. George's as the curate. In 2012 he was called by the vestry to serve as the Priest-in-Charge, and instituted as Rector of the parish in January, 2017. Under Jacob's leadership, Calvary-St. George's congregation has multiplied greatly and been featured by the diocese as one of the most thriving and growing parishes of New York City.
Jacob serves on the Board of Directors of the Federation of Protestant Welfare Agency, is a trustee of the Cathedral Church of St. John the Divine in New York City, and founding board member of Mockingbird Ministries. Bishop Andrew Dietsche recently appointed Jacob as the dean of the Lower Manhattan Clericus.
Jacob is married to Melina Smith, a floral designer, who previously worked as a behavior therapist in Arizona and social worker at the Children's Aid Society in New York City. In NYC, Melina has created original Sunday School material, and leads a team which has developed original theatre, art, and music, for a thriving Creative Arts Camp for children. Melina and Jake are the parents of Sophia and Henry.
The Rever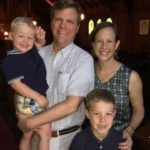 end Canon Jonathan Huyck officiates on August 22 and August 29, 2021. 
The Rev. Canon Jonathan Huyck is the rector of Grace Church in Providence, RI, where he has served since 2010. Prior to coming to Grace, Jonathan served as Canon Pastor of the American Cathedral in Paris, where he is an honorary canon. A native New Yorker, Jonathan is a graduate of Brown University, the University of Chicago Divinity School, and General Seminary in New York City. Most crucially, Jonathan is an alumnus of Twilight Park Day Camp and a life-long (well, since age 3, anyway) Twilighter, having grown up with brother Peter, sister Laura, and parents Phil and Mary in the yellow cottage at the top of Thank You Ma'am Road. "I have many happy memories of both the Park and All Angels, and I am thrilled and humbled to lead worship at the church of my youth and preach from the same pulpit as Bob Massey and Fred Burnham. My wife (Ann) and sons (Ben, 10 and Nate, 6) and I look forward to being with you all this summer!"22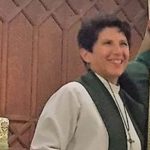 The Reverend Kate Heichler officiates on September 5th, 2021.
Kate has been the rector of Christ Church in La Plata, MD since 2018. Ordained a priest in 2004, she has served congregations in Connecticut and Washington, DC, and holds an MDiv (summa cum laude) from Yale Divinity School, and a Doctor of Ministry degree from Hartford Seminary. A prolific writer and crafter of worship experiences, Kate is passionate about the church's healing ministry. She publishes a daily spiritual reflection on the upcoming Sunday's gospel reading (Water Daily). Christ Church is happy to share her with our sister church, Christ Church Wayside.