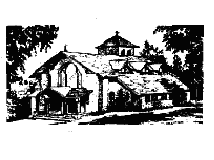 Sunday June 26 is "Opening Day" at Memorial Church of All Angels, 2022
Please join us to begin the season at our 10:30 a.m. worship. All are welcome! We are continuing the tradition of "Lemonade on the Lawn," Following the Service and just outside the Church.  We would love volunteers to keep things running smoothly. Various volunteer opportunities are listed below. If you get a call, please agree to be one who serves.
Vestry:
Name
Office, Committee
Whitney Janeway
Senior Warden, Ministry
Janis Handte
Jr. Warden, Ministry
Barbara Swanson
Secretary
Mack Elder
Treasurer
Patty MacGahan
Auxiliary President, Rectory Oversight
Ron Basini
Buildings and Grounds
Dorsey Dunn
Buildings and Grounds
Robert Elder
Ministry
Bob Hersey
Buildings and Grounds
Jeffrey Joslin
Buildings and Grounds
Johna Peachin
Readers
Wade Speir
Buildings and Grounds
Cyndy Stevens
Altar Guild
Here are some notes for the summer.
We are looking forward to welcoming the following clergy to our pulpit this summer. Please make them and their families feel at home in Twilight! We are in for some very good preaching with some familiar and some new folks.
| Sundays in 2022 | Clergy |
| --- | --- |
| June 26 | Rev. Susan Copley |
| July 3 | Rev. Canon Jonathan Huyck |
| July 10 | Rev. Canon Jonathan Huyck |
| July 17 | Rev. Canon Jonathan Huyck |
| July 24 | Rev. Nate Jung-Chul Lee |
| July 31 | Rev. Nate Jung-Chul Lee |
| Aug.  7 | Rev. Kate Heichler |
| Aug. 14 | Rev. Kate Heichler |
| Aug. 21 | Rev. Deborah Lee |
| Aug. 28 | Rev. Deborah Lee |
| Sept. 4 | Rev. Deborah Lee |
Sunday June 26 is "Opening Day" at Memorial Church of All Angels, 2022
Choir rehearsals are on Sundays at 9:30 a.m. Join the choir on any Sunday. Just show up at 9:30 and we'll give you a robe and hymnal. Children are welcome.
Services are Sundays at 10:30 a.m. Holy Communion and Morning Prayer will alternate.
Special music is always a wonderful feature of worship. Please contact Sheila Weber if you would like to offer a solo or instrumental selection.
Altar Guild – To help, contact Cyndy Stevens
Ushers – To volunteer, contact Johna Peachin
Readers – If you would like to read one of the lessons, contact Johna Peachin.
Auxiliary – For all Auxiliary info and activities, contact Patti MacGahan. Details will follow.
The Rectory number is 518-589-5646.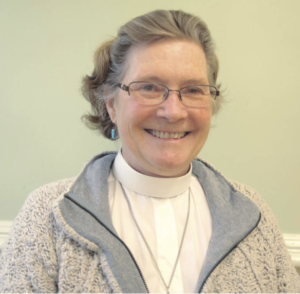 Reverend Susan Copley opens the All Angels' season on June 26th.
Susan recently retired after serving for 13 years as the rector of Christ Church and San Marcos, in Tarrytown New York, a thriving bilingual, inclusive parish.  Prior to serving in Tarrytown she and her husband, David, served in Liberia, West Africa and Cochabamba, Bolivia. David, also an Episcopal priest, serves as the Director of Global Partnerships on the Presiding Bishop's staff. Their daughter Megan Joy, lives and works in Edinburgh, Scotland.  Retired now in Newburgh, Susan has begun to serve as a volunteer chaplain at the local hospital, and has free time to garden, bicycle, try NYT's recipes and binge watch British mysteries.  Her favorite proclamation is "God loves you madly."
The Rever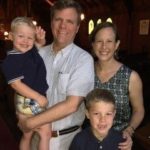 end Canon Jonathan Huyck officiates July 3 through July 17, 2022
The Rev. Canon Jonathan Huyck is the rector of Grace Church in Providence, RI, where he has served since 2010. Prior to coming to Grace, Jonathan served as Canon Pastor of the American Cathedral in Paris, where he is an honorary canon. A native New Yorker, Jonathan is a graduate of Brown University, the University of Chicago Divinity School, and General Seminary in New York City. Most crucially, Jonathan is an alumnus of Twilight Park Day Camp and a life-long (well, since age 3, anyway) Twilighter, having grown up with brother Peter, sister Laura, and parents Phil and Mary in the yellow cottage at the top of Thank You Ma'am Road. "I have many happy memories of both the Park and All Angels, and I am thrilled and humbled to lead worship at the church of my youth and preach from the same pulpit as Bob Massie and Fred Burnham. My wife (Ann) and sons (Ben, 10 and Nate, 6) and I look forward to being with you all this summer!"
The Reverend Dr. Nathaniel ("Nate") Jung-Chul Lee returns to the All Angels pulpit July 24 and July 31, 2022
The Rev. Dr. Nathaniel ("Nate") Jung-Chul Lee is Associate Rector of St. Mark's Church-in-the-Bowery, in the Lower East Side of Manhattan. Nate is a priest with seventeen years of ministry experience in diverse contexts across the country. Working with people of all ages, from a variety of demographic backgrounds, Nate is especially passionate about helping foster conversations between churches and their surrounding communities, and breaking down the walls between them. Nate has also pursued this work in a variety of academic contexts, as both a seminary and university professor. During Divinity School at Duke University, Nate worked closely with Professor Stanley Hauerwas on two books, the first a critique American exceptionalism, especially as exemplified in its militarism; and the second, a exploration of how Christian identity is translated into diverse cultural contexts. His recently completed Ph.D. dissertation utilizes the identity of Christ as Divine Word for a constructive response to questions of racial justice and reconciliation. His two boys, Ezekiel Sang-Hun (5), and Malachi Sang-Wu (2) are his north star, and the best of him.
Reverend Kate Heichler officiates August 7 and 14, 2022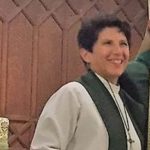 The Rev. Dr. Kate Heichler is a regular at All Angels. She currently serves two parishes in Southern Maryland, an hour south of DC. Kate is a writer, speaker, spiritual director and retreat leader. She holds a Doctor of Ministry degree from Hartford Seminary, MDiv and STM degrees from Yale Divinity School, and a BFA from NYU. She is passionate about crafting worship that helps connect people with God, and has been involved in the ministry of healing for many years. She writes a daily reflection the following Sunday's gospel reading, Water Daily, which can be found as a podcast or at preachergirlkate.blogspot.com or emailed on request
Reverend Deborah Lee closes out the season, officiating August 21 through Sept 4.